So as I mentioned in the last post, I've been out of pocket for 2 and half weeks. So all the stuff I want to post on here is a tad bit overwhelming, but that's ok. . . Blogging is my outlet and is FUN for me, so I'll get to what I can when I can! HA
Rowyn is 5 months old!
HOLY COW!
I feel like she turned 5 months old and then all of the sudden seemed so much bigger to me! She is growing like a little weed. The pediatrician thought maybe she could be a late bloomer. . . I'm beginning to think he could be right. Just a few weeks ago she was just starting to wear her 3-6 months clothes, to which they still were a tad big. All the sudden this week she's wearing them and they seem to actually FIT! It's true they actually seem to grow over night.
Month 4
Month 1-3
She is sassy as ever. She loves to squeal and her giggles aren't near as hard to come by as they were the first 4 months. She wakes up happy every morning and even after only 30 minute naps she is USUALLY happy then too. We're still for the most part going about 90 minutes to 2 hours between naps. Occasionally we go longer as long as we a're doing something pretty fun. HA I won't post how good or bad we're sleeping because it always seems like when I blog about it, she'll stop. :) Just know that even though she is the worst napper, she does great at night.
I love going in at night or the mornings to see where she has wiggled to in her crib. I still wrap her up in blanket, so it's pretty amazing to me to see that the blanket is still wrapped around her and she some how turns a complete 180.
The girl truly loves to be naked. Every night before bath time we lay on the floor naked as a jay bird and it's like she's thinking "I'M FREEEEEEEEEEE" It's hilarious. She squirms and kicks and SQUEALS. It's so fun. We're loving the cloth diapers still. I'll do an update on those soon. I'm pretty much obssessed with it, like everyone else I know that does it. It's pretty fun.
We aren't hating tummy time as much these days but I can't keep her on it. She rolls over within seconds of me putting her on it. I don't know how we'll ever get her to roll back to tummy or to start crawling! HA. She will sit up on her own for a few seconds so I don't think it'll be too long before she can do it for a long time.
Rowyn is the most amazing thing that has ever happened to me besides meeting my husband. Every day she does something new and cute. I just love her so much it truly hurts sometimes.
target.com
Anything small enough for Ro to put in her mouth and knaw on is also fabulous these days, otherwise I wouldn't have a hand. I still don't feel any teeth, but good gravy. . . She has recently starting biting down while eating.
OUCH.
We really like these link rings. They go on everything and with us EVERY WHERE. These and Sophie are life savers.
They are free on iTunes. Rowyn LOVES them. Her favorite is the bear growl and the songs. To be honest, Tom & I love the songs too. :) The Apps go with this cool gadget that I'm pretty sure she'll need from Santa. :)
So I mentioned in a previous post that I love baby wearing. LOVE IT. The first three months the Moby Wrap was a life SAVER. Seriously. Our new favorite carrier is the Baby Bjorn Original Spirit.
We have it in this fun green color. Seriously, she is beyond happy in this thing. I tried putting her in before she could hold her head up all that well, so we had her facing towards me (like the picture) and she was not a fan. When she was able to hold her head up and I could have her facing outward. . . it was a whole new baby. LOVES IT. Since she hates being in her car seat so much, anytime we get out of the car for a long period of time I throw her in this and we are good to go. I have gone to TJ Maxx, Target, the grocery multiple times, and a football game. All for extended periods and she stays happy. We joke that she looks like a little puppet because she kicks her little legs like one. In the evenings when we're getting sleepy, I put her in this and wear her around the house. She is a happy camper until nakie time. :)
What is your favorite carrier?? I'm really interested in the Ergo or a sling type.
Suggestions??
Mud Pie Burp Cloths. Mud Pie has the most precious clothes. I'm pretty obsessed. :)
However these particular burp cloths, although precious, don't do the job. They have ones that look like the good cloth diaper kind. I bet those are awesome. These are the ones that look like wash rags on one side. When she was teeny tiny and barely spit up, then it didn't matter much. However now that her spit up can tend to be pretty crazy if I eat something wrong (onions! EVERY TIME! I love them too. Boo.) they do not hold up to the test. I think I'm going to start using them for baths.
I'm really disspointed in the problems with Johnson & Johnson's baby products. :( I love the baby wash and shampoo. It's what they sent her home with from the hospital and it just smells like baby to me. Since apparently they are still using carcinogens in their products when they said they had stopped, I have stopped using it on Ro. I haven't tried the Natural Johnson & Johnson yet.
Have you??
Tonight we used the Burts Bees at bath time and we always use Aveeno Calming Lavender bath bubbles. I do love the Aveeno, but the Burts Bees just didn't smell the same to me. :( It didn't smell like my baby. What do you use???
amazon.com
Last Months Goals:
1.) We are sleeping in our own bed like a big girl. We are all sleeping better because of it. :) It's nice to have my bedroom back and to be able to watch TV in bed again.
2.) The transition to cloth diapers has been a fun and easy one. We do truly love it. I'm on the CD sites daily and following my CD blogs like a stalker. I'm still learning, so I soak it all up. Again, I'll do a few posts about it soon.
3.)Getting out of the house is much easier. We still don't do it EVERY DAY ALL DAY, but thanks to the Baby Bjorn it's not as scary anymore.
Goals for Next Month:
1.) We're going to start solid food. I had originally wanted to make my own baby food. Then I heard about Baby Led Weaning. I'm thinking I'll do the baby food for a little while, and then go into the BLW. The BLW is supposed to help babies be better eaters, but you don't do purees at all. I really want to make our own baby food. :) So we'll play and see. Tom got me Super Baby Food for my birthday. A lady at our church said it is an amazing book. Basically the author's twins were born early. Most babies are known to get sick, however her twins were healthy as ever and she chalks it up to the food she was making/feeding them. I'll let you know how Ro likes it. :)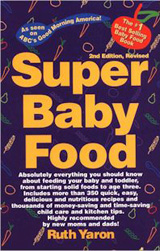 superbabyfood.com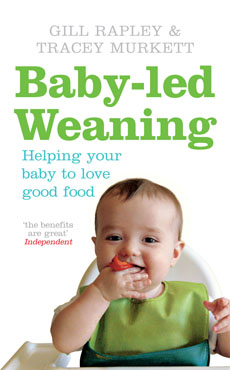 rapleyweaning.com
I know a few of my IG moms who never read the BLW book. One says she just went with her instincts on what was safe to feed her babe. It's pretty amazing to see these 6 & 7 month olds scarffing down avacados, bananas, etc. I would love to be blessed with a great eater. Ha.
And now my favorite part. . .
The outtakes. :)
Oh...you think you're going to get a smile out of me, huh?
Whatcha lookin at ,Willis?? This giant ass bow on my head...AGAIN!
Are we done yet, Mom?? This picture is totally telling the future of photos to come in my life. :)