So while my parents were here, we did a few projects around the house, besides decorating. :) I've had these sconces for over a year, but I've never been brave enough to hang them on my own.....so thank goodness men like to use tools. Here they are in our bedroom. I LOVE THEM!
The cross stitch on the wall was a wedding gift from my grandfather. I remember my grandmother working on it years ago, and fell in love with it. So since she was the one to teach me how to cross stitch, and I miss her so much, it gives met the warm fuzzies hanging on our bedroom wall.
Oh & PS: That candle next to the picture of us....amazing!! Mom brought it to us from H&N Floral & Gifts from Ttown.. It smells like Christmas! GO GET ONE!!
I recently "refreshed" the guest bathroom. The shower curtain was on sale at Dillards....it has a bit of "blemish" but I'm not going to tell you what it is.....that way if you ever come to see us, you won't notice it! :)
Finally hung the pictures from Canton!!!
This bad boy is from H&N as well! LOVE it! It looks awesome in the guest bedroom.


The really cool thing about the mirror.....it was an amazing price.
I saw this one the other day in Restoration Hardware's window!!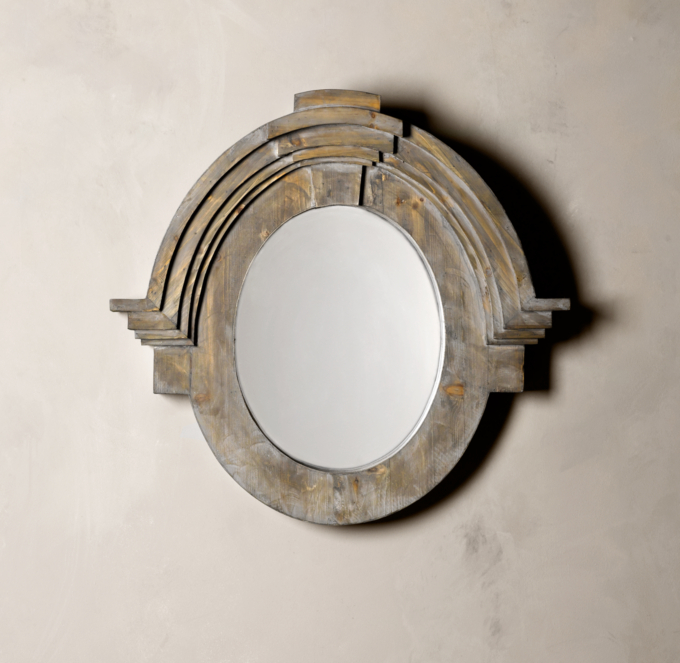 This thing is $295-$395
WHAT WHAAA?!?!? I did not pay that AT ALL!
MAN I LOVE BARGAINS! :)
So for all you belly lovers out there.....I don't have one.
I have a bloated/lay off the beer/Christmas cookies bump.
However I knew I wanted to keep up with my bump growth from month to month so here is my 3 month/ 12 week "bump".
Excuse the disheveled look.
Grrrrr. I've been feeling ok. Still nauseaus and pukey, but surely SOON it will stop.(Please dear Lord, make it stop!) I will be 14 weeks this Friday. WHOO HOO.
I'm really getting an anxious feeling to start buying things for the little munch-kin, but I really want to know what it is before I go all crazy. :) 6 more weeks and we'll find out! We don't care one way or the other, just as long as he or she is happy & healthy. However Tom keeps having all the baby dreams.
I'm not having anything except really vivid horrific dreams (Phenergan/hormones = NIGHTMARES!). Seriously, I had a dream the other day my sister was choking me....I mean two hands around my neck, choking....and I woke up startled and literally gasping for air. (Jenn, are you mad at me or something?!? haha) The rest I really can't put on here because they are so awful.
Meanwhile, Baby Daddy over there is having sweet loving dreams about a baby boy.....he even named him in the dream. I won't give out the name (yes I'm one of those people) until I'm sure it has been vetoed. :) He also had a dream that we were having twin boys. WHAT?!?! Apparently major morning sickness is prominent with girls and/or twins....so the twin thing made me nervous, since we won't get another ultrasound until 20 weeks...
Wouldn't that be hilarious?!?! ....yeah, I'm not so sure either! :)
Besides spending too much money while my Mom was here a few weeks ago, I finally got a to spend a few wedding gift cards and birthday money I've been saving up. I have been waiting patiently for this gem to go on sale at Crate & Barrel...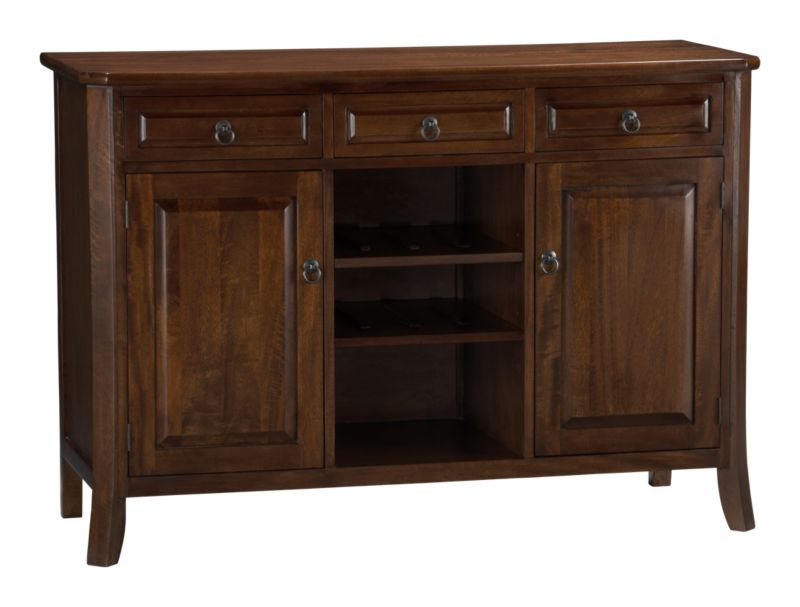 Cambria Kitchen Buffet - I NEED MORE STORAGE!
The sale thing....it just wasn't happening. (Watch it go on sale after Christmas. Lovely.)
So after my birthday and a few coupons (again, thanks to my amazing Mom) I bought it! YAY! However their delivery charge was a little steep....or so I thought at the time.
So I agreed that Tom & I could pick it up at their warehouse. It was on the way home from work, so sure.
HA! That thing was heavy (I'm speaking for my husband, since I've gotten myself in this "condition" :) )
Put he miraculously got it in the house. We unpacked it....it was beautiful.
however...
It had two big ass cracks in it!!!!!!!!!!!!!!!
If it was a cheep piece of crap, I wouldn't have cared. Gift cards, coupons or not.....it wasn't inexpensive.
IT WAS GOING BACK!
I want a new one!
Tom wasn't too happy, (that's putting it nicely) but we got it back in the box, in the car....and got a new one two days later. This time however I got Tony to come help us unload it. :) Next time I'll pay for them to deliver it.
Aint it purty?!?! :) No this isn't the new camera...just the boring old iphone. :)



We're off work for the rest of the week. whoo hoo! We're anxiuously awaiting the arrival of our sweet nephew, Baby Boy Boff. That's his name for now! haha Last weekend we realized his arrival was going to be soon, so we went over to help BIL & SIL out with some "To Do" list items before he and the rest of the family arrive at Christmas. That's our plan for this week as well. When he does arrive (hopefully while we're off work) we get to watch this little love.
Abby!!! While her little brother is being born, we're hoping Uncle TBoff & Aunt Willis get to watch her so she's not stuck at the hospital.
Have a blessed day,
The Boffs, Miller, & The Peanut